The Greengrocer's is a range of fresh fruit, vegetables and salad that will make getting your five-a-day even more convenient! Our range of fresh fruit & vegetables is made up of 127 lines sourced from 15 local suppliers.
Meet the Suppliers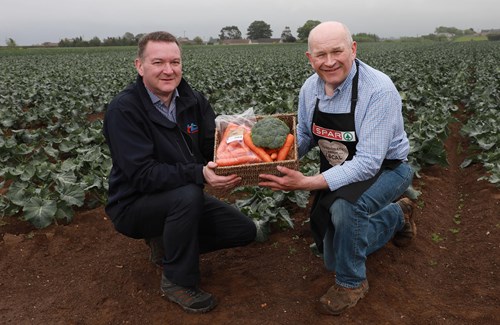 Noel McGregor, Produce Manager at SPAR with Mark McKee, Fresh Fields Owner.
Hi Mark, tell us about Fresh Fields.
We're a family firm of traditional vegetable farmers and have been running since 1989. My wife, my brother, sister and I are all involved and we employ people from the local area. All of our crop is grown in Northern Ireland.
What would surprise our shoppers about your produce?
They might be surprised to hear how our carrots are grown! In the early season, we cover them with fleece to keep them warm, then, come July, they're uncovered to get the best of the summer sun – and rain! We'll have a small harvest in summer, but come winter, we're harvesting carrots and parsnips every day.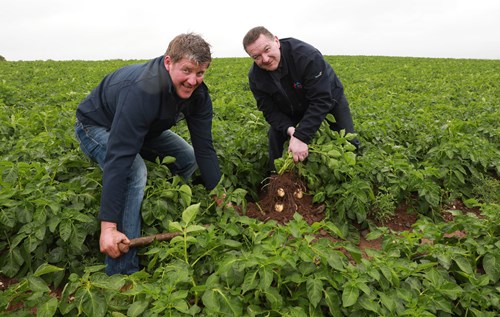 Richard Orr, Director William Orr & Son with Noel McGregor, Produce Manager at SPAR.
Hi Richard, what does William Orr & Son supply to our stores?
William Orr & Son is a family run potato farming business in Comber, and we grow and supply potatoes for The Greengrocer's range of products, as well as our own line of seasonal spuds.
What makes the perfect potato for our shoppers?
As shoppers, we do not take the humble spud for granted! We've noticed that what's important for shoppers are the basics: where it's farmed, the story behind it, why it's unique, the variety and how it's grown but most of all, the quality and taste!